A Team of
Dental Professionals
The most comfortable dental polyclinic in Marmaris
Our experienced dentists can give you free consultation for your dental health
We run Quality Policies on sterilization, patient confidence and technological approach.
We use most up to date treatments on our patients for best results and fast recovery.
Innovation, Care, Experience
Our clinic is located in Marmaris, the holiday paradise known as the Pearl of the World. Highly trained Turkish qualified doctors and friendly team.
Dentists and staff speak more than 3 different languages
Our priority is to provide quality and efficient dental care.
Experienced Dental Specialists are ready for you dental health
Dt. Şevket Cankurt
Cosmetic Dentistry Specialist General Dentistry & Oral Care
Dt. Aslı Sülün Cankurt
Cosmetic Dentistry Specialist General Dentistry & Oral Care
Dt. Mehmet Barış Küçük
Cosmetic Dentistry Specialist General Dentistry & Oral Care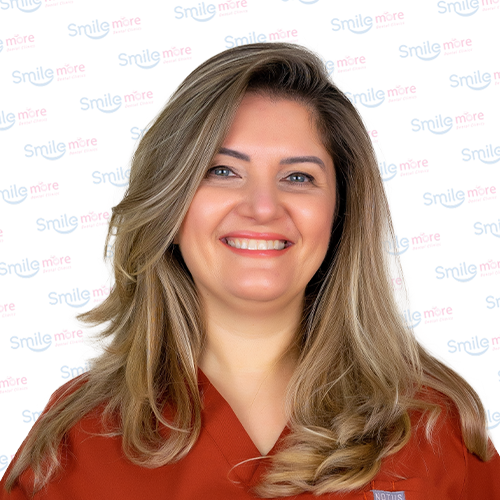 Dt. Esma Kürklü Gürleyen
DDS, PhD - Oral Surgeon
A dental practice focusing entirely on YOU!
As SmileMore, we offer our valued patients a comfortable and relaxing environment where they can benefit from world-class general and cosmetic dental treatments under one roof.
What information do I need to Provide for Booking an Appointment?
We only need your full name and your phone number. Our patient care team will call you to book an appointment at the time of your convenience.
I feel nervous when I am alone. Can I bring someone along with Me?
Yes, why not? We want you to feel relaxed and at home during your treatment at SmileMore. Although we are certain that you will immediately feel relaxed as soon as you step into our office, you can bring along your loved ones or friends with you for moral support.
How early should I arrive for my Appointment?
It is up to you how soon you want to come for your appointment. If you want to save your time, you can come right on time for your appointment. However, recommend that you can slightly early so that you can enjoy a cup of tea or coffee with us or simply enjoy the serene environment and soothing music in our waiting area.
What if I need to Change my Appointment Date or Time?
Although we don't recommend changing your date or time of appointment at the last hour, we understand that emergencies may arise at any time. However, we request that you please inform us of as soon as possible if you cannot arrive for your appointment. Please call us at +90 531 679 48 48 and we will be happy to reschedule your appointment.
What will During my First Checkup Appointment?
When you first visit us at SmileMore, we will make sure that you have a relaxing and enjoyable experience. In addition to a thorough examination of your oral health by our dentists, you will also get a free large x-ray which shows all the teeth and important structures of your mouth (the OPG x-ray).
Please call +90 531 679 48 48  if urgent. Your personal case manager will ensure that you receive the best possible care.
the most qualified, skillful and professional
.